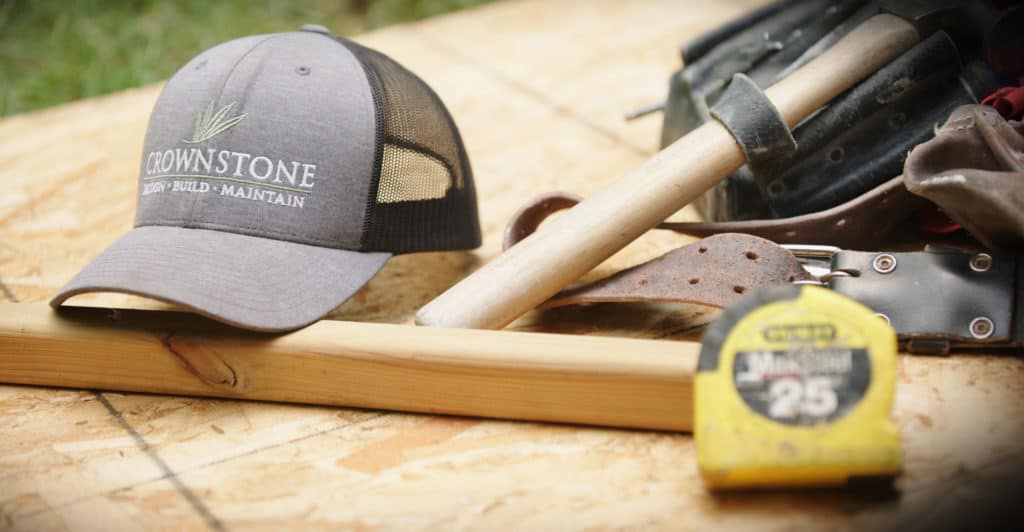 Founded in 2018, on the principles of delivering to our clients what we say we are going to do, when we are going to do it, while most importantly continuing to make your family comfortable, safe, and secure in your home.
Going from The Basement, to My Basement
We received three estimates to finish the basement and making the decision to go with Crownstone was the obvious choice.  Chris listened to what we wanted and never tried to sway us to go in another direction for his convenience or because something was easier.  The crew was professional and the work was outstanding.  At every turn, Crownstone went above and beyond to make sure the work was done to the highest standard. When we received the timeline for the project I was skeptical but Chris told us he wouldn't start our job until everything was lined up.  He was true to his word and once our project was started there wasn't a lull until it was done. I always referred to our basement as The Basement because it never felt like part of our home.  It was totally unfinished with just a rough in for the bathroom.  We hired Crownstone to finish The Basement and midway through the project Chris noticed I had stopped calling it The Basement.  Crownstone had turned The Basement in to My Basement.  It is now a part of our home that finally feels like home. Once our project was underway, Kyle was our daily point person onsite.  Kyle's attention to detail means that everything expected and unexpected is handled with care and the upmost quality.  His manner was easy and professional and he helped make a big job feel manageable.
I recently hired Crownstone, LLC for a total home renovation. It's an old condo from 1974, and required some pretty extensive work; a friend of mine had started a lot of projects and left most of them unfinished. Thankfully, Crownstone was up to the job. I couldn't be more pleased with the finished results. I was also extremely impressed with how quickly/efficiently this team finished a number of intensive projects. In just a handful of weeks, they succeeded in delivering all new flooring, light fixtures, smoke detectors, sinks + vanities, kitchen shelves + cabinets, backsplash, doors + hardware, and a kitchen bulkhead that really wowed me + opened up my space. They also finished everything with a flawless paint job. It's a big ask to have someone refinish/essentially gut and redo an entire home; but Chris, the co-owner, responded to the job eagerly and without any trepidation. He was thorough, patient, responsive, and great to work with through the whole process. I can honestly say my home looks unrecognizable (in a good way) and I'm super appreciative of Crownstone for all their hard work! Definitely recommend this company for any home renovation/facelift/makeover. They 100% deliver. The photos I included in this review showcase the new lighting + flooring + bathroom vanity. I've also attached a photo of the finished kitchen (which formerly had half-finished backsplash and a hole in the wall where the microwave currently is). Love my new digs!
Next Level!
As a real estate professional serving the whole DMV, I talk to contractors and builders every week. Chris at Crownstone has taken his company to new levels. Highly competent and innovative, it didn't make sense to go with anyone else to renovate my new apartment. Kyle is a master at his craft and the guy just doesn't quit until perfection is complete. Meanwhile Kassandra is keeping everyone in motion like a well oiled machine -- her Communication and energy has been exceptional. Thank you, Crownstone! And thank you for making this big project feel like a breeze!!

We Used Them for Multiple Projects
Our family has now used Crownstone for three different projects in our Alexandria, VA condo. They've installed new flooring and completed a kitchen renovation, they remodeled two bathrooms, and installed new window sills throughout the condo. With each project Chris, Kyle, and the rest of their team have been professional, hardworking and thorough. They clearly explained the scope of all projects and followed through on all of the deliverables. The Crownstone team followed all instructions and guidelines from our building's association (not an easy task!) to keep us and our building management happy. We are thrilled with the work they've completed for us and we would not hesitate to recommend Crownstone to any family considering home improvement in the future!
Highly Recommend!
Crownstone completed a remodel of my master bathroom in January 2022. From the time I contacted Chris for a quote, he was very responsive and a professional communicator. He answered all my questions thoroughly and made sure I was satisfied with the project plan. Once the team came on site, they were very courteous and professional, and respectful of our space. They helped guide me with design decisions as needed, which I appreciated! They completed the project quickly and within the time frame they had specified at the beginning of the project. Chris and Kyle kept me updated on the progress of the project and made sure I was satisfied. When something unexpected came up, they addressed it with me quickly and got it resolved. After the project was completed, Chris followed up with me to ensure I was satisfied and everything was functional, etc.
I would recommend Crownstone to anyone who is looking to complete a major home project!